Day 2 – Osaka Castle Park (Osaka Castle, Nishinomaru Garden), Shitennoji Temple, Tsutenkaku
Our second day was quite busy, plus we have unlimited one-day subway ticket that could take us to anywhere in Osaka, so why not 🙂
In the morning we visited Osaka Castle Park, where the landmark building Osaka Castle is located at, it also has a garden which is the go-to place for cherry blossom (sakura) viewing.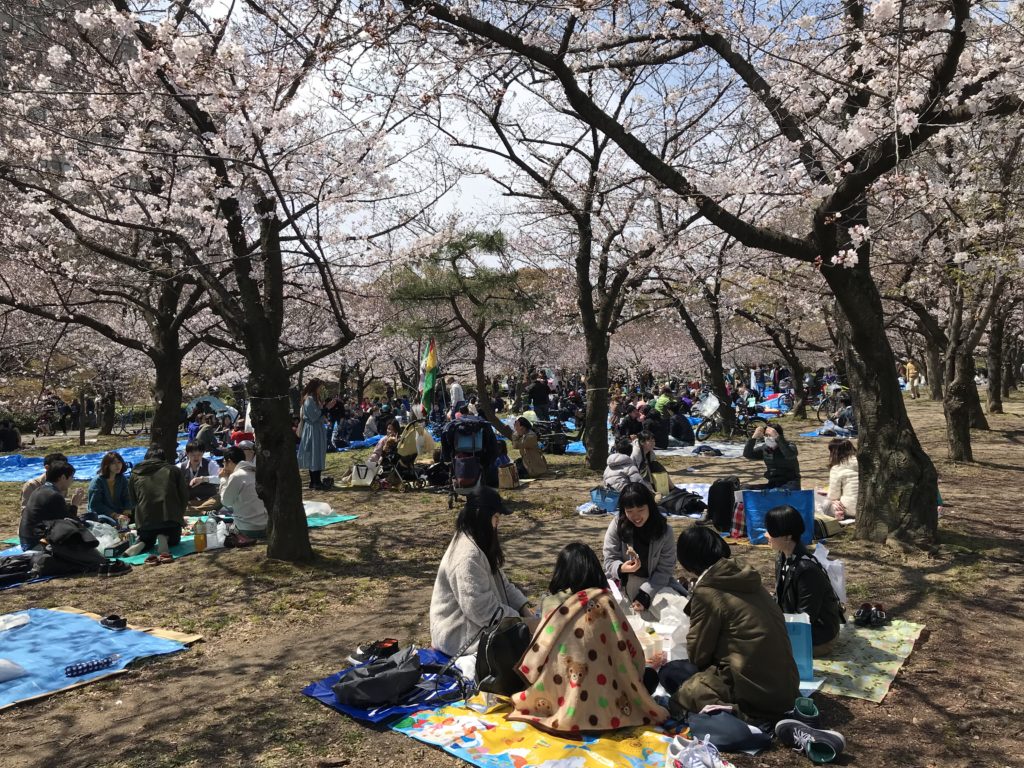 Our second meal in Japan was ramen (of course!). We went to Ichiran Ramen to experience ordering on vending machine and eating "alone" – they have all three sides of the table blocked, so that you can enjoy your ramen without being disturbed.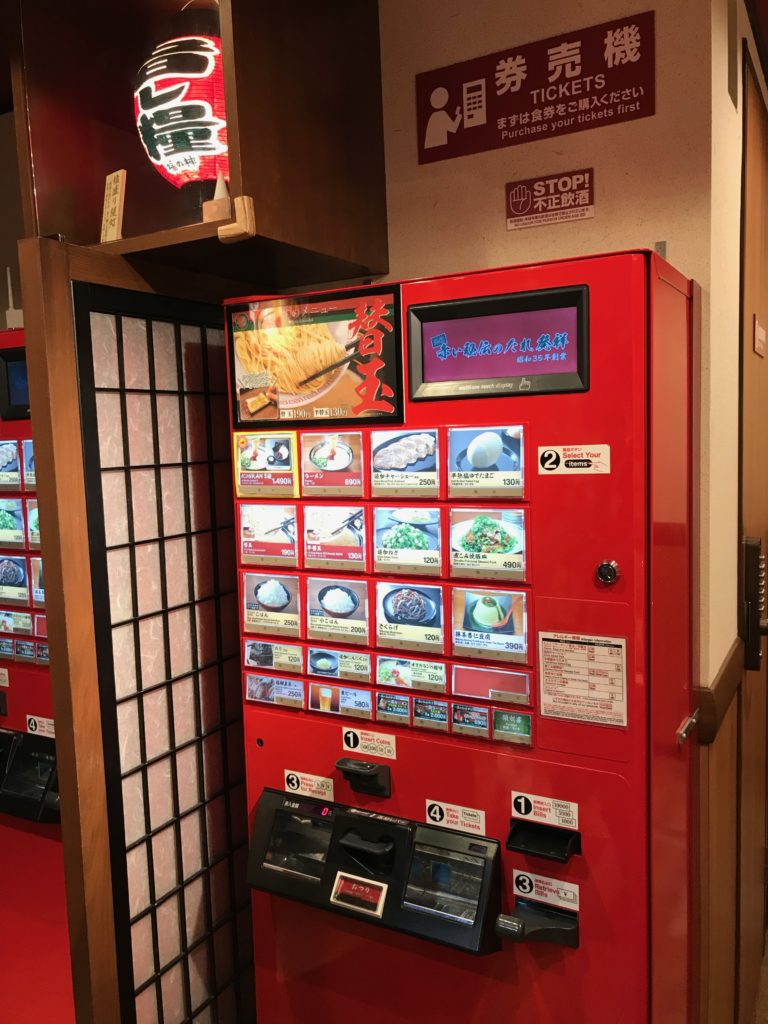 Later on the second day, we went south to Shitennoji Temple, and Tsutenkaku for the night view. We were lucky that Shitennoji Temple was free access on Sunday when we visited.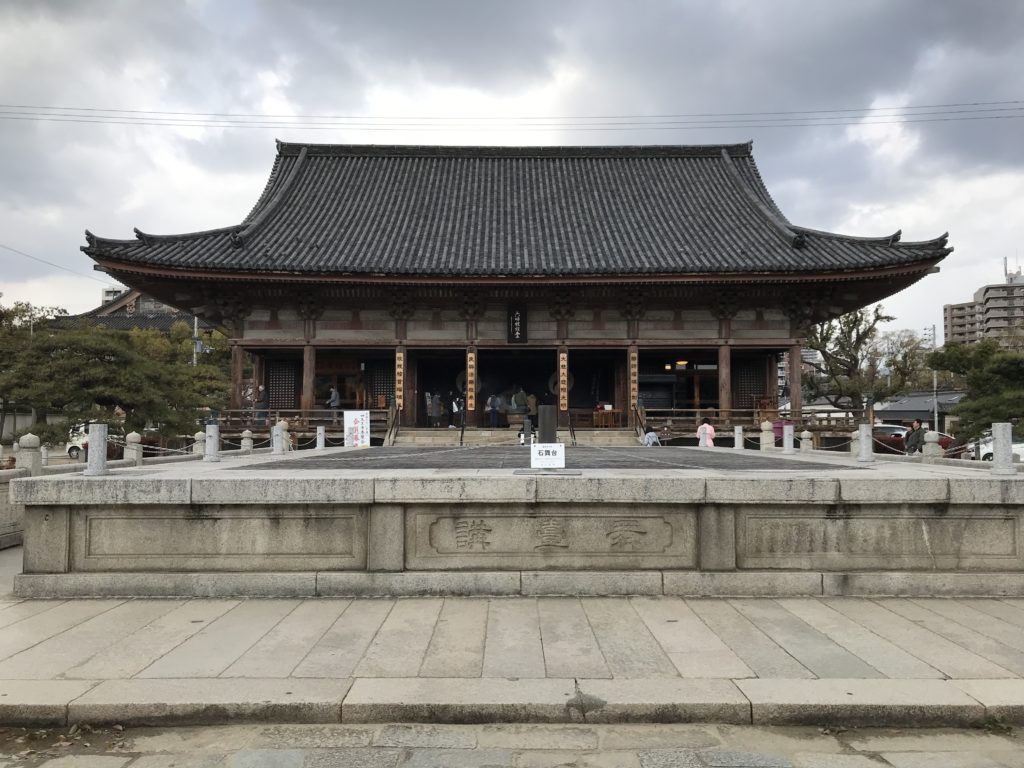 Day 3 – Osaka to Tyoto, Kinkaku-ji
Our third day was half-day on the road and half-day travel. There are many ways you can travel from Osaka to Kyoto. The most common and convenient way would be taking trains. If you have JR Pass, you can take Shinkansen from Shin-Osaka Station to Kyoto Station, or take the JR Kyoto Line from Osaka Station to Kyoto Station. You can also take The Keihan Main Line from Yodoyabashi Station to Sanjo Station, it is cheaper but would spend around 1 hour. To find out more information regarding the lines, time and cost, you can visit Osaka Station website.
We went with the Keihan Main Line, not because it was the cheapest option, but mainly because I missed the stop and didn't want to carry the luggages running around… After arriving in Kyoto Sanjo Station, we had lunch at the Musashi Sushi, a well-known conveyor belt sushi restaurant.
After lunch, we checked in at hostel and visited Kinkaku-ji. It is a temple covered in gold leaf. Luckily that it was sunny when we went there, so we got to see the marvellous golden temple shined under the sun. It was fabulous!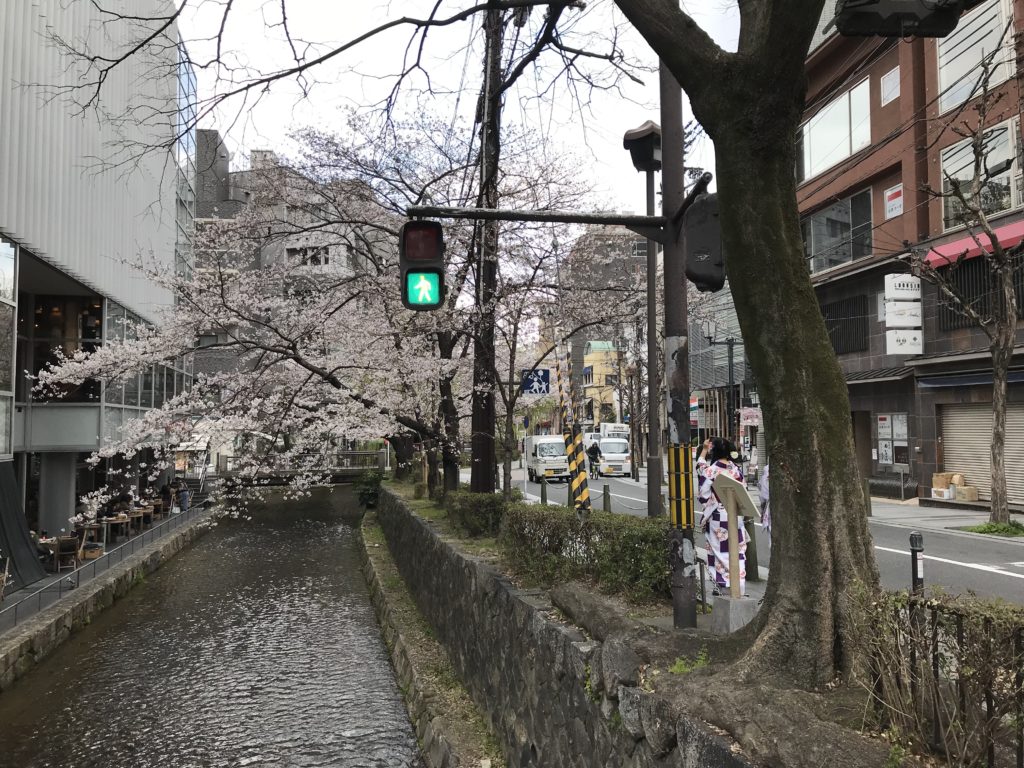 Day 4 – Yasaka Shrine (Maruyama Park), Nishiki Market
Today we planed to go easy on our itinerary. Yasaka Shrine in the morning, lunch and afternoon at Nishiki Market.
The place we stayed was in north Kyoto, and there was a shrine at the bus stop called Suika Tenmangu Shrine. This shrine was listed on Kyoto cherry blossom observation site, as it has a big "Weeping Cherry" tree in the yard. We happened to find this hidden gem while waiting at the bus stop, which was a true blessing to our trip 🙂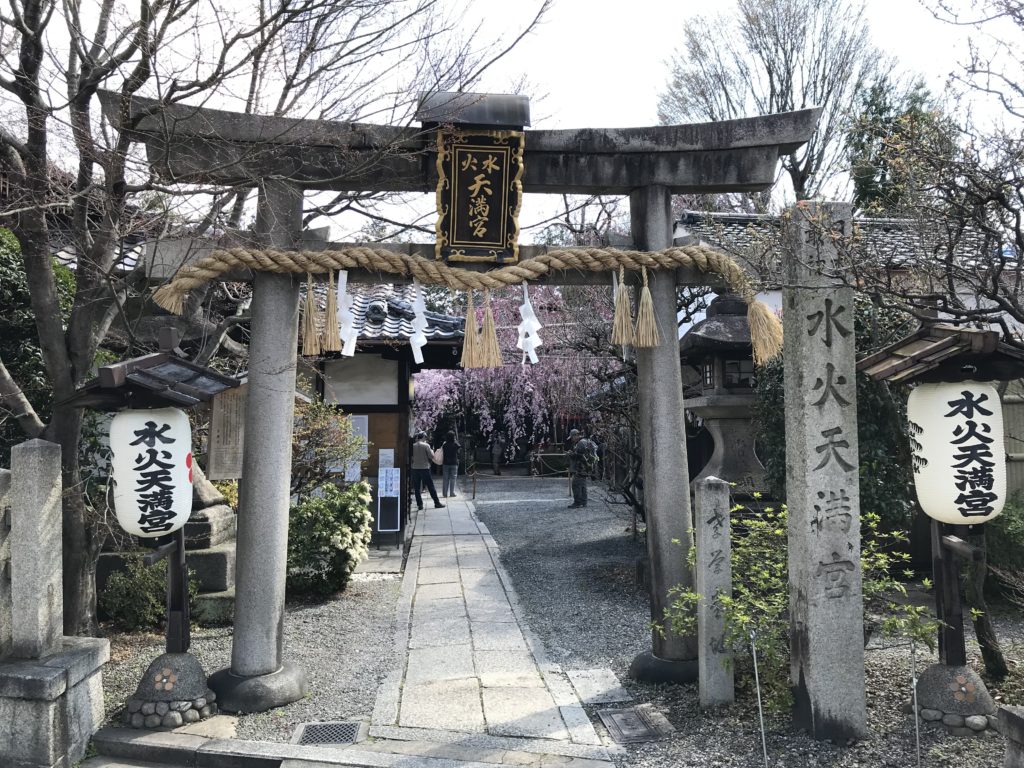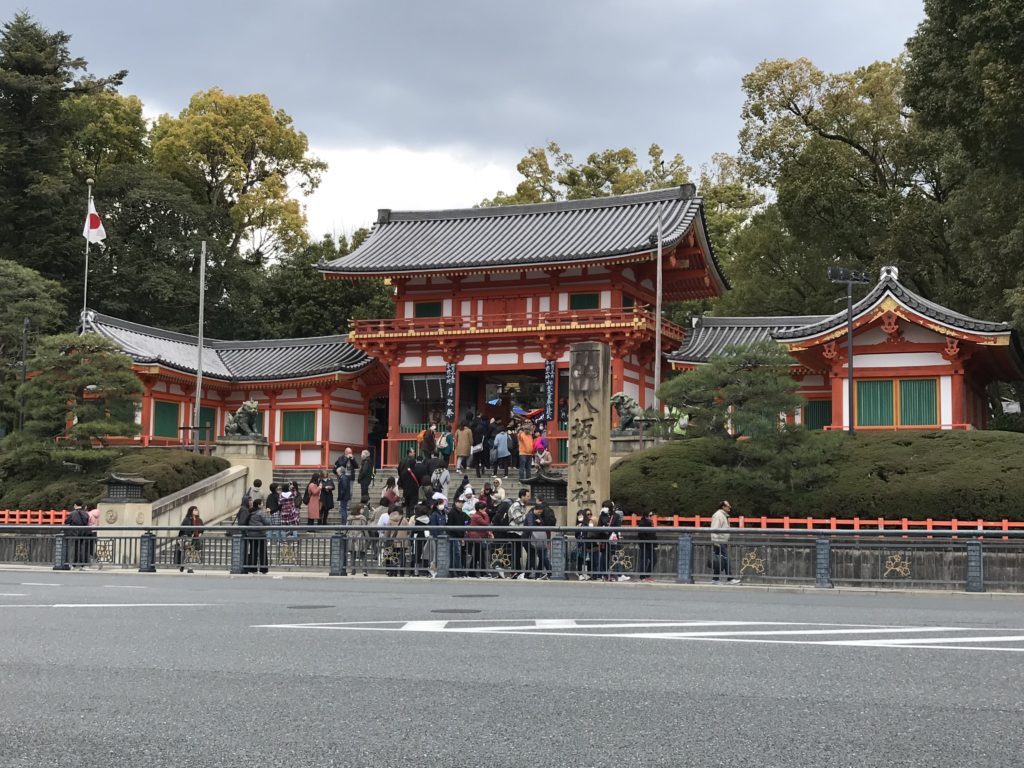 For lunch, we went to Mishima-tei for sukiyaki. I was initially planning to go Mishima-tei's flagship store at Sanjo yesterday, only found out that they needed reservations for at least 2 days in advance. Luckily, I managed to find out that they had a branch store at Daimaru Kyoto near Nishiki Market, the location was, however, very hard to find (pin me in the comment section if you need the detailed direction!), but we were able to find it anyway, and it was totally worth it! The beef was so tender and juicy, the sweet joy covered with fresh liquid egg… you have to try!!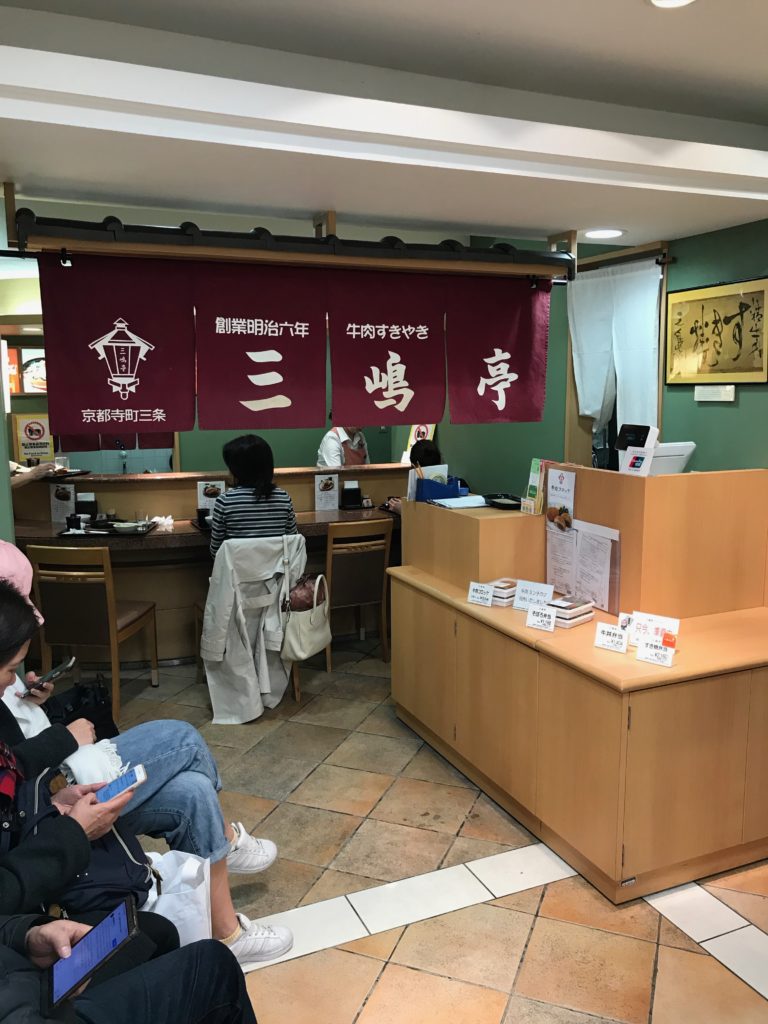 After lunch, we spent the remaining afternoon at Nishiki Market, did some shopping while had some more snack foods. I also got to try yakiniku skewer at Yakiniku Hiro's branch store, which I felt so blessed.
Day 5 – Fushimi Inari Taisha, Hanami Koji, Ninenzaka, Sannenzaka
Today was basically half day in Fushimi, half day in Kyoto. We came to Kyoto Station in the morning, hoping to get an ice cream at Itohkyuemon – one of the most well-known Uji Matcha brand in Japan, only to find they only serve ice cream at Uji flagship store. So we got an ice pop at Malebranche Kyoto Tower Sando instead (was going to try one anyway), and it was really good! The ice pop was served in a cup with matcha sauce at the bottom, so you could enjoy the ice cream while dipping the sauce, which was so bitter so matcha!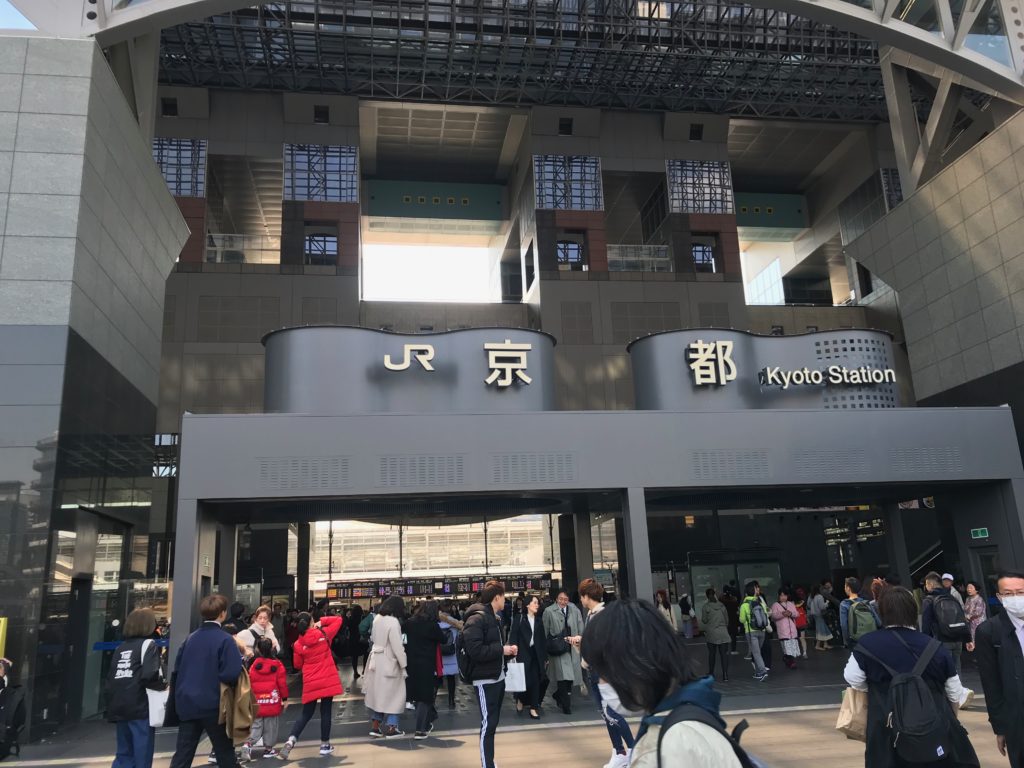 We took JR Nara line to Inari Station, the taisha was right outside of the train exit. Everything was orange, the temples, the torri gates, made you feel bright and peaceful. The ema here was fox shaped, people can draw faces of foxes while write wishes behind. It was really fun to see those faces hanging up at the racks designed by people from all over the world, some are creative, some are funny.
There was a lot of people visiting that day, so it was very hard to capture the moment and take that iconic people-clean photo at Senbon Torii Gates. There were more torii gates up the mountain with probably less visitors, but we couldn't go further, as I booked a kimono rental in the afternoon.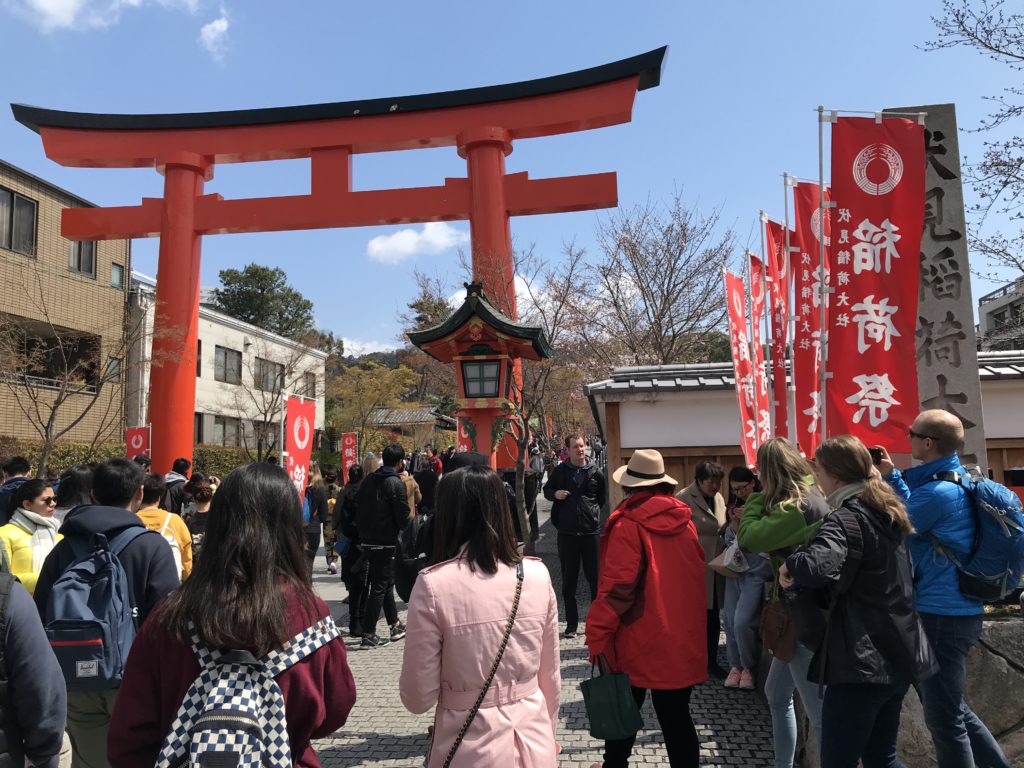 After Fushimi Inari Taisha, we came back to Kyoto Gion to get dressed up with kimono, then took a walk around Hanami Koji, Ninenzaka and Sannenzaka. There were many girls wearing kimonos walking on the street and taking photos, so you wouldn't feel awkward at all, and in fact, it was a super fun experience!
For dinner, we tried a street food style omelette at Issen Yoshoku. The omelette was known as "one-dollar food" as it was very cheap, but also tasty. The restaurant itself was great too, you could see it spent a lot of time on interior design. Street food + Sake = Happiness!