Day 3 – Barcelona Museum of Contemporary Art (MACBA), Boqueria Market, Gothic Quarter, Cathedral of Barcelona, Columbus Monument, La Rambla
Today and tomorrow's attractions would be more centralized, basically walkable. First, the Barcelona Museum of Contemporary Art (MACBA), then I headed southeast to Boqueria Market for lunch; then further southeast and I walked within the Gothic Quarter and took a quick look at the cathedral; lastly, I headed south-west to Columbus Monument (south point of La Rambla), and walked back towards the north of La Rambla.
First stop – MACBA. I personally don't think there were a lot of things to see. The first floor was about calling out for the protection of indigenous cultures; the second floor covered the development of Catalunya contemporary art from 1945 onwards; the third floor was for temporary exhibitions. Honestly, you can strike this place off on your itinerary if you don't have enough time; if you are visiting or have been to Reina Sofia Museum in Madrid, you can totally skip here. But if you do want to visit, note that the museum closes on Tuesdays.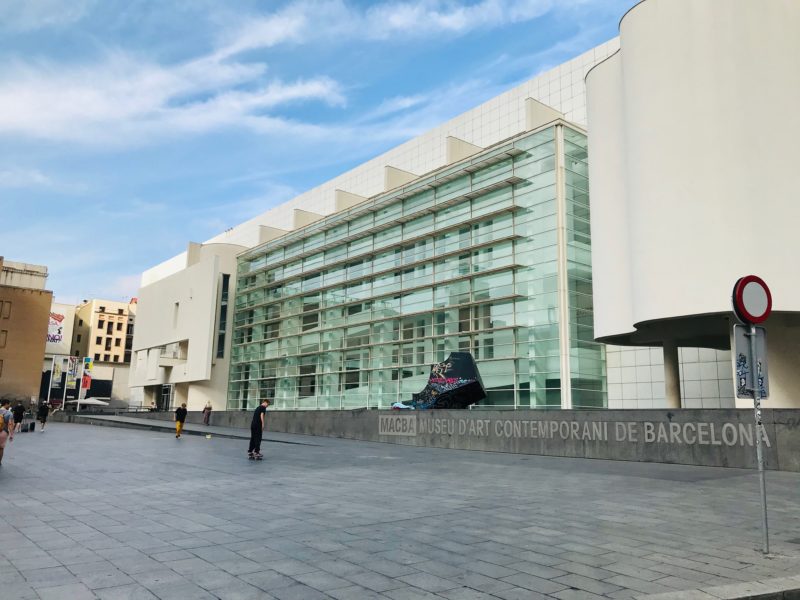 The next stop, Boqueria Market, was just a 5-minute walk from MACBA. The market is located in the middle of La Rambla, which is one of the busiest streets in Barcelona and connects Plaça de Catalunya and Columbus Monument. Speaking of La Rambla, it attracts tons of tourists every day but is also a popular area for pickpocketing. You have to pay super close attention to your belongings. Other than that, it was a fun place, and it is recommended that you walk end-to-end to fully experience its vibe – it's just 1.2 km anyway 🙂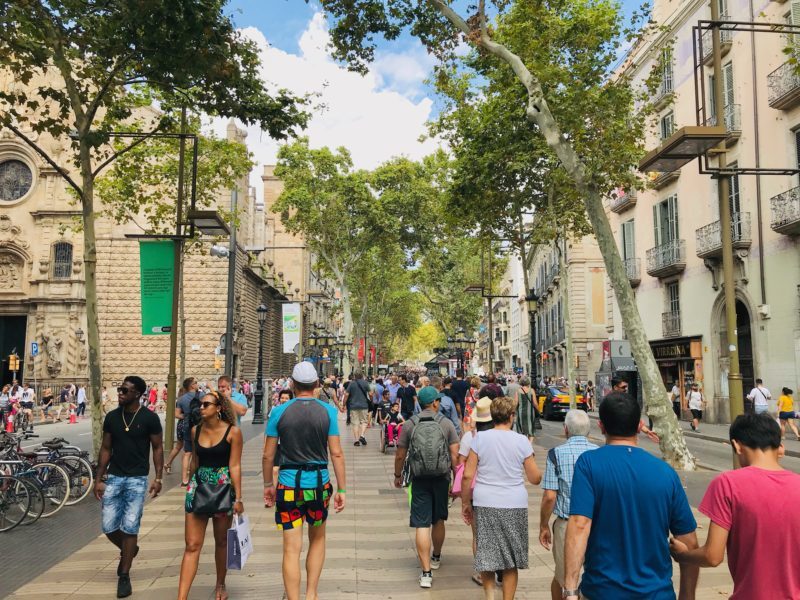 Boqueria Market is basically a Barcelona version of Toronto's St Lawrence Market, except that it opens six days a week (Mon.-Sat.). It's a great place to grab a few bites with lots of variety. I tried Jamón Ibérico here. Not a fan of ham, so I just got a snack pack. It turned out that it was really yummy – a very rich flavour, it would have been great to pair with cheese and white wine.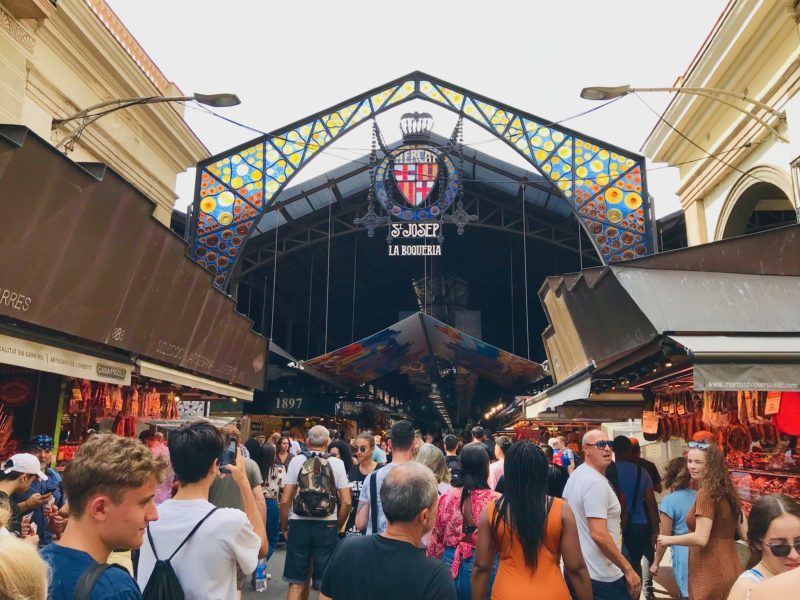 I spent 2 hours strolling around the Gothic Quarter. If you want to 'feel' Barcelona, you have to come here. It used to be a Romain village back in the medieval age, and now it has evolved into a chilling artistic district full of trendy bars and restaurants. Sadly, I couldn't have night drinks at Plaça Reial, which would have been a great and relaxing experience.
Despite arts and drinks, it is also an enigmatic area where you can discover some architectural secretes. For example, you can find a hidden skull with a dagger inside underneath the Bishop's Bridge.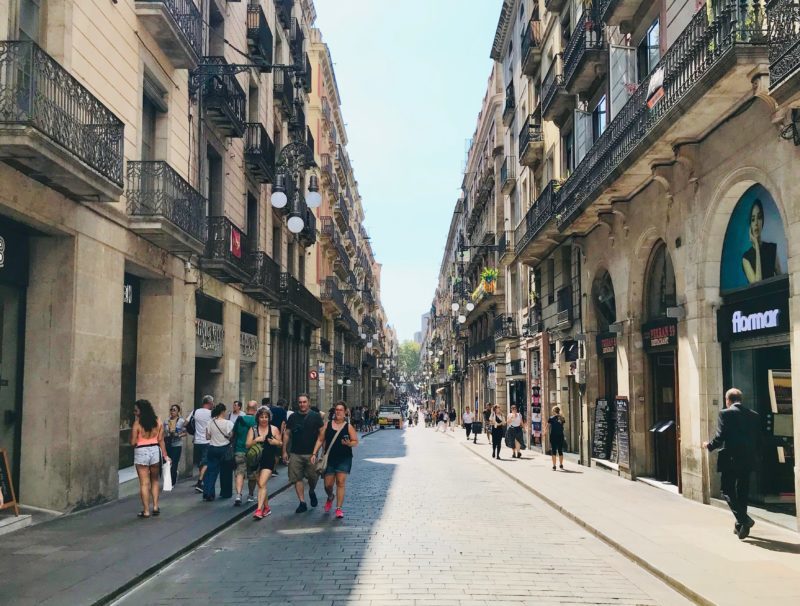 Columbus Monument was a 20-30 minute walk from the Gothic Quarter. From there, I walked back to the middle of La Rambla then subwayed back. I had a light dinner near my hotel then called it a day.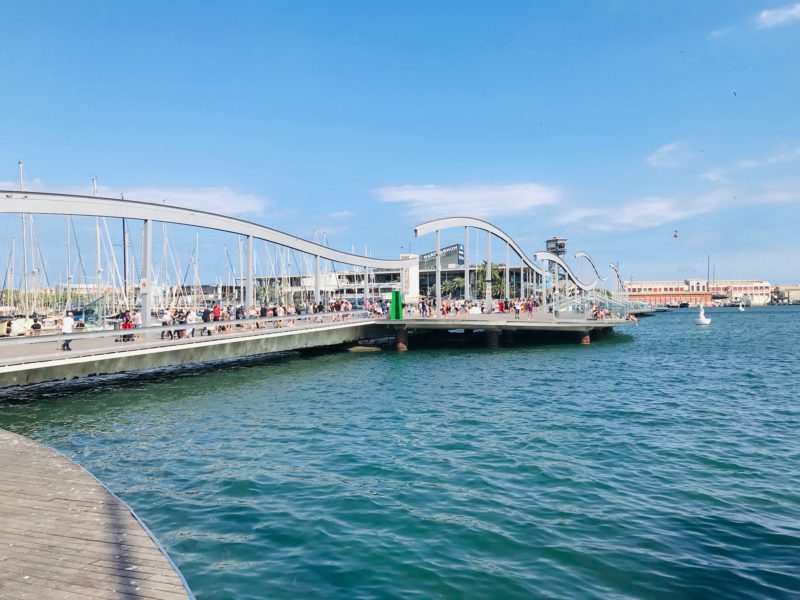 Day 4 – Picasso Museum, El Born, Ciutadella Park, La Barceloneta Beach
Today's activity flow was similar to yesterday but on the north side of Via Laietana. The morning was Picasso Museum, then a stroll in El Born, then up north to Ciutadella Park, and south to La Barceloneta Beach.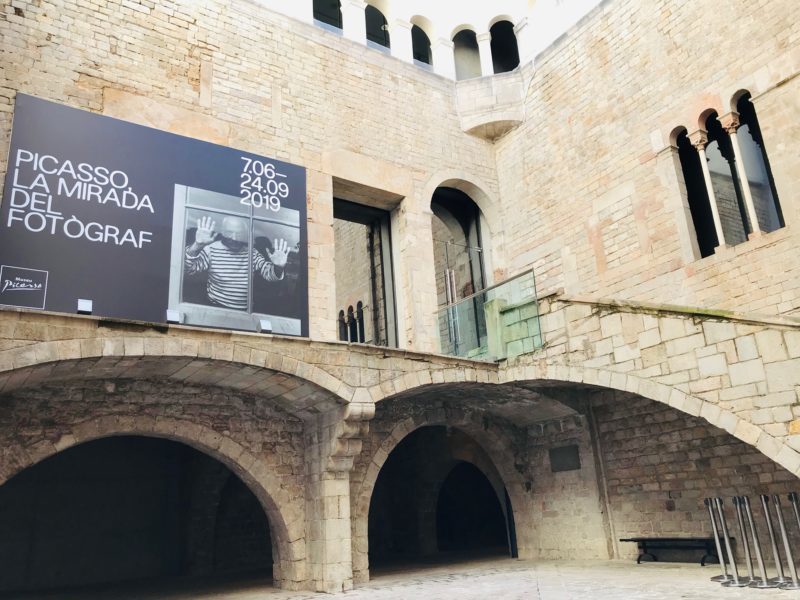 Lunch at Tapeo. I finally got to try Fideuà, a traditional Catalunya dish similar to paella, but cooked with thin noodles instead of rice. I ordered the Black Catalan Cuttlefish Fideuá. The noodles were coloured with squid ink and tasted quite unique. The Bomba here (another traditional Catalan dish) was also a must-try.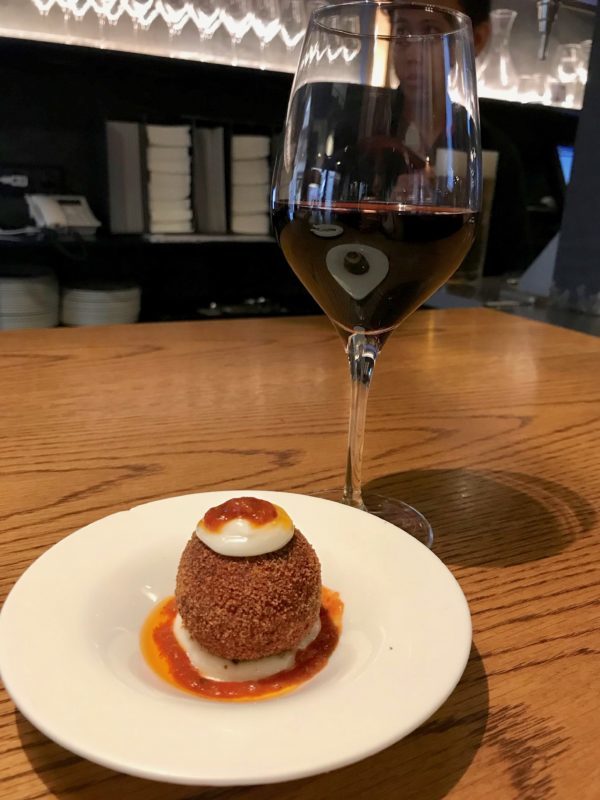 I took an after-lunch stroll at El Born. Previously known as the city's fruit and vegetable wholesale market, El Born has now grown into one of the most fashionable places in Barcelona. Like the Gothic Quarter, it is packed with cafes, bars and small boutiques, surrounded by beautiful architecture.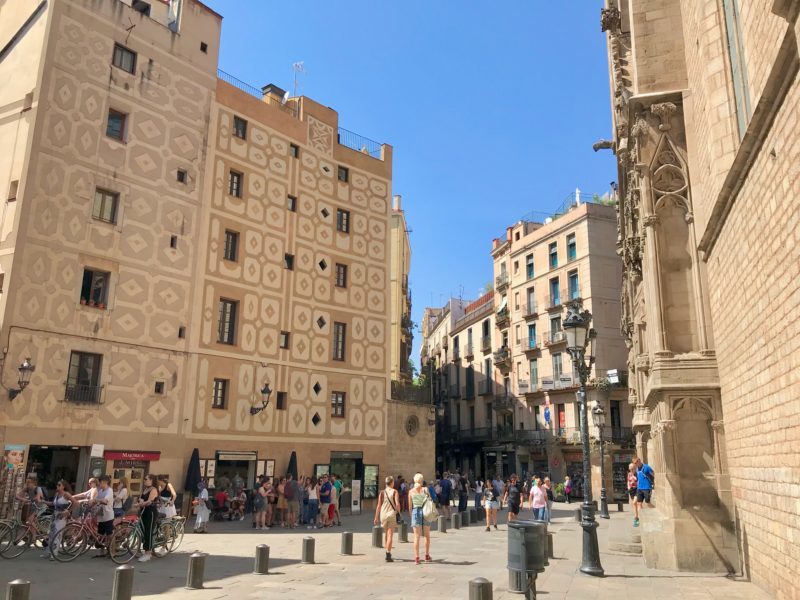 I kept walking north for 2-3 minutes. Ciutadella Park was right across the street. I stayed there for half an hour, then headed south to enjoy the beach view.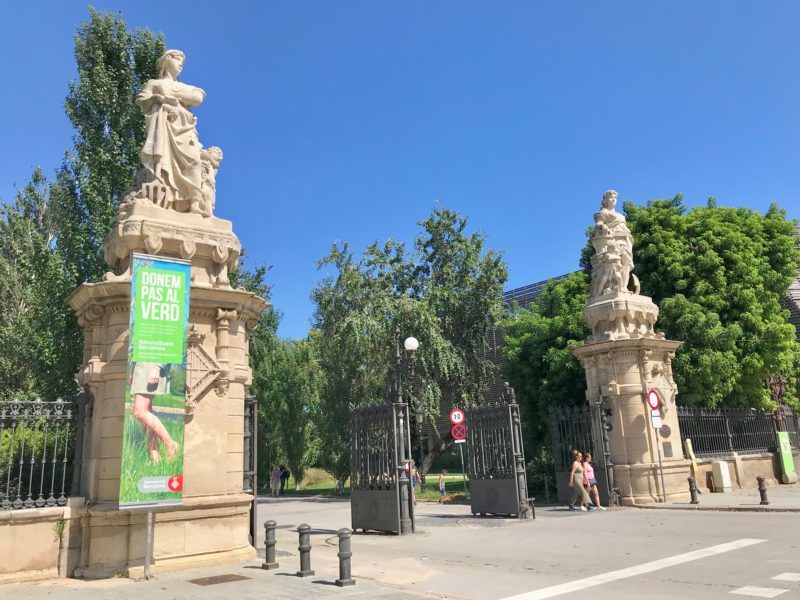 For the last dinner in Barcelona, I tried Crema Catalana, the Catalan version of crème brûlée, paired with Cava, the Spanish version of champagne. I called it a delightful night.
Day 5 – Barcelona to Madrid, Plaza Mayor and Central Madrid
Most of the day today was on transit. From Barcelona to Madrid I took the Renfe train. Madrid's subway wasn't as developed and organized as Barcelona's, but still easy to figure out.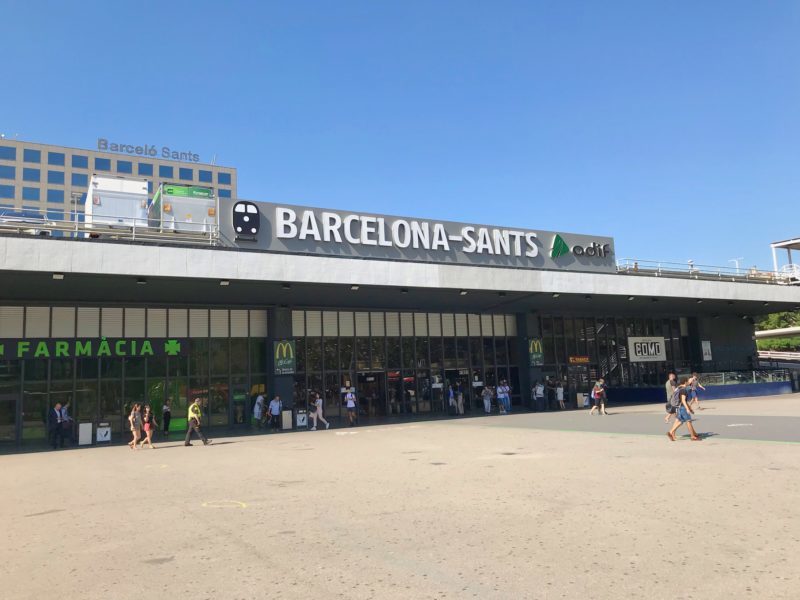 My hotel was right in the central (tourist) area in Madrid. All attractions on my itinerary were within a 30-minute walk, and most were 10-15 minutes.
After settling down, my first stop was the famous churro shop – Chocolatería San Ginés. It is said that this place serves the most authentic churros in Madrid. The way they made churros was indeed different from North America, where people tend to put chocolate inside and sprinkle sugar as cover. I'm not a churro fan, but it was good to try the authentic version.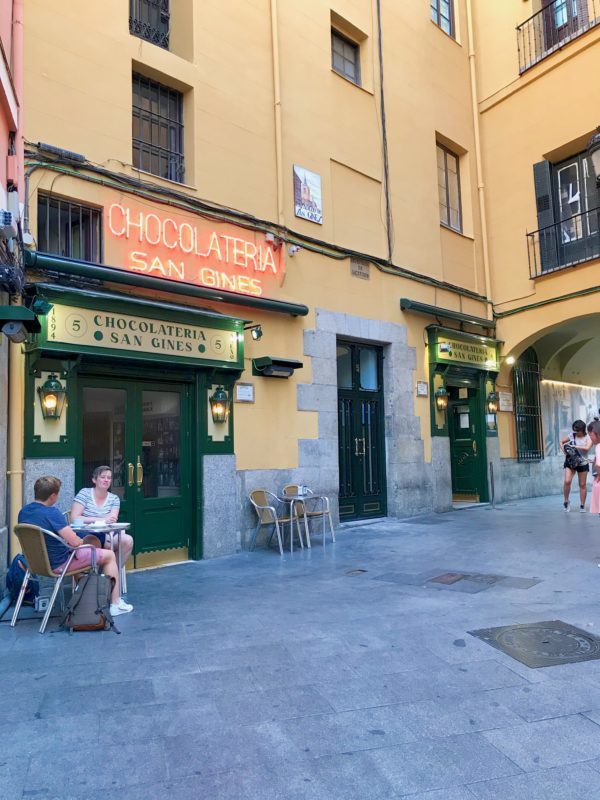 After the churros, I strolled around the Sol area. This place was like a maze… I had to use Google. Otherwise, it would be very easy to get lost. Plaza Mayor and Puerta del Sol were both in this area.