Sometimes you want to challenge yourself in many different ways, and I had decided to challenge myself by choosing Spain as my first solo travel destination.
Knowing that Barcelona and Madrid are both on the top-10 list of the world's worst cities for pickpocketing (No.1 and No.4, respectively), I was fully aware that I had to be super careful with my personal safety and belongings throughout the trip. So I did lots of studies on safety hacks (perhaps also because it was my first solo travel). In fact, if you have done enough research on your itinerary and local transportation, nothing would stop you from having fun. 🙂 There was one saying I came across while doing my research that fits here perfectly – "Failing to plan is planning to fail."
I am so proud of my safety preparations, thinking if I should write an article to share all my tips 🙂
Weather
September is a perfect time to visit Spain. While it is still hot, summer heat starts fading out. During my stay in Barcelona (Aug 31 – Sep 4), the average temperature had been 23-30°C. Whereas in Madrid (Sep 4 – Sep 8), it became cooler, especially in the morning when it was only 13-15°C, afternoons could go up to around 23-28°C. It is suggested to pack some layers, perhaps a jacket if you have enough space.
Transportations
Barcelona
If metro and the bus are also your main sources of transportation, get the Hola Barcelona Travel Card, end of story. However, there are many other means you can use to travel around, such as sightseeing bus, bicycle, taxi, etc.
Madrid
One is called Multi Card, which offers single tickets and 10-trip tickets. For both types, you need to purchase a physical card (€2.5), which you can reload later on. The other one is a Tourist Card, which has different validity and zone options (Zone A and T). I simply got the 10-trip ticket as most of my attractions are walkable.
I used public transportation in both cities because it is more flexible than a sightseeing bus, more convenient than cycling (don't have to find parking), and cheaper than a taxi.
Accommodations
I booked my hotels on Expedia. In Barcelona, I stayed at Hostemplo Sagrada Familia, located close to Eixample, or "Extension" in Catalan. Eixample was originally developed to resolve the housing crisis and then became the heart of the city's design culture and Moderniste architecture. 
In Madrid, I stayed at room007 Select Sol. It's located in the Centro (central) area of the city, Plaza Mayor was literally a 2-minute walk, plus I didn't plan to go out of town, so everything was very convenient. 😊 My room was cozy and clean, exceeded my expectation. They have plenty of dining and lounge area downstairs as well, and it connected to a cute courtyard.
Network
I got the Orange SIM card. The data and minutes can be used anywhere in the European Union. You should be able to find their store at any airport or tourist area.
Itinerary
Day 1 – Arrive in Barcelona, walk in Eixample
Day 2 – Casa Milà, Casa Batlló, Plaça de Catalunya (Catalonia Square), Park Güell, and La Sagrada Familia
Day 3 – Barcelona Museum of Contemporary Art (MACBA), Mercat de Sant Josep de la Boqueria (Boqueria Market), Gothic Quarter, Cathedral of Barcelona, Columbus Monument, walk at La Rambla
Day 4 – Picasso Museum, El Born, Ciutadella Park, La Barceloneta Beach
Day 5 – Barcelona to Madrid, Plaza Mayor, walk at Central Madrid
Day 6 – Museo Reina Sofía, Museo Thyssen-Bornemisza, El Retiro Park
Day 7 – Temple of Debod, Royal Palace of Madrid, Museo Nacional del Prado
Day 8 – Walk around Lavapiés and La Cava Baja, shopping at Gran Vía
Day 9 – Return back to Toronto
Day 1 – Arrive in Barcelona, walk in Eixample
I arrived at Josep Tarradellas Barcelona-El Prat Airport around noon time. After picking up my travel pass, I headed straight to the hotel to check in.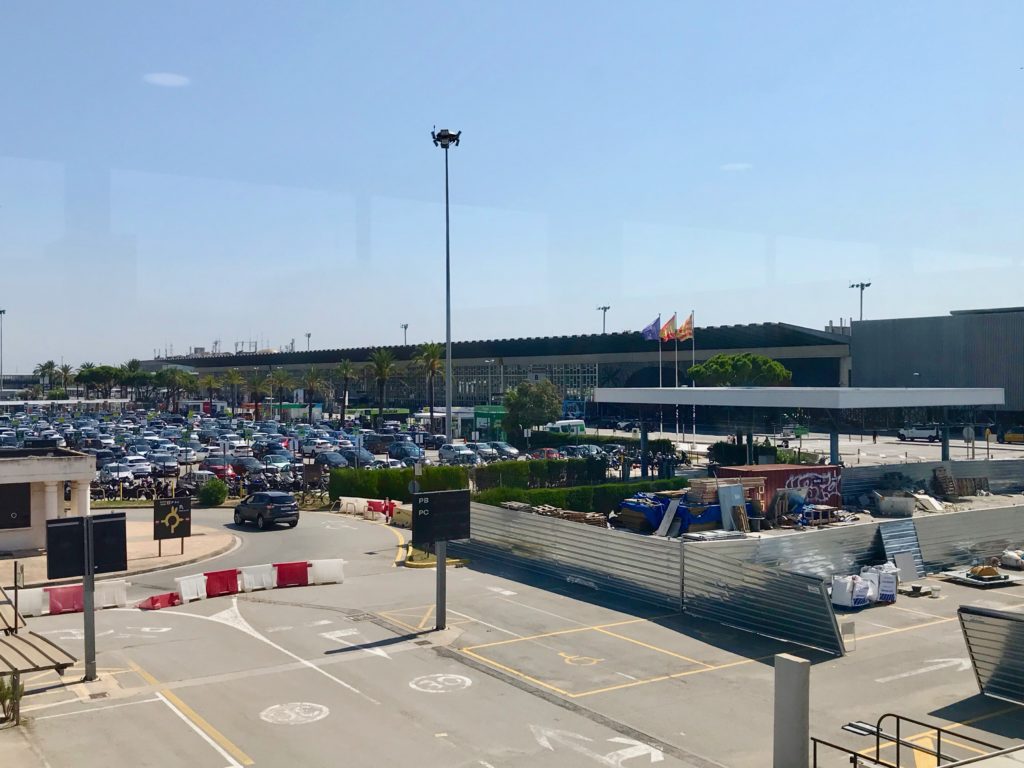 The place I stayed 🙂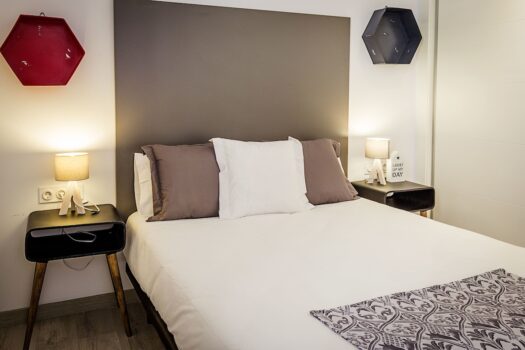 After settling down, I went out for lunch. Barcelona has a very rich tapas culture, and their eating times are super late – 1-4 pm for lunch, 9-11 pm for dinner (almost my bedtime). People order small plates with drinks, as the main idea of having tapas is to spend more time chatting with friends.
There are a lot of varieties you can choose from, but the most traditional dishes are Patatas Bravas, Pinchos, Anchovies, Calamari, Squid, Shrimp and all other kinds of seafood.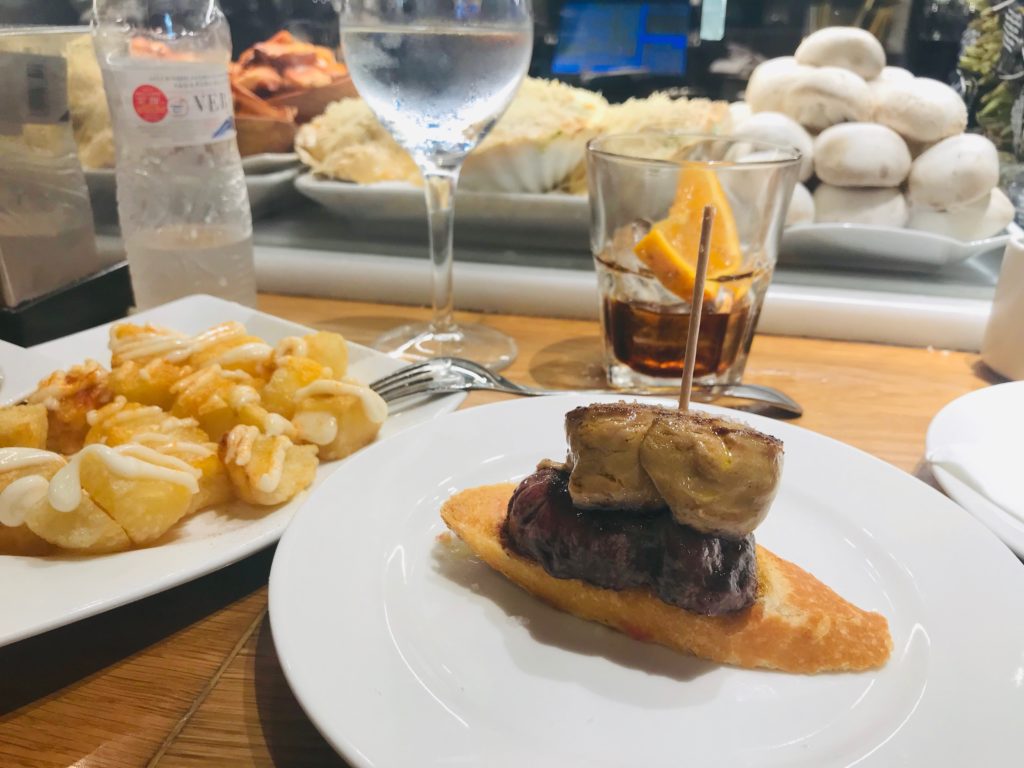 After lunch, I started exploring the Eixample / Passeig de Gràcia area. As mentioned earlier, Eixample is the expansion of Barcelona's old city, and Passeig de Gràcia within Eixample is one of Barcelona's most important shopping and business areas.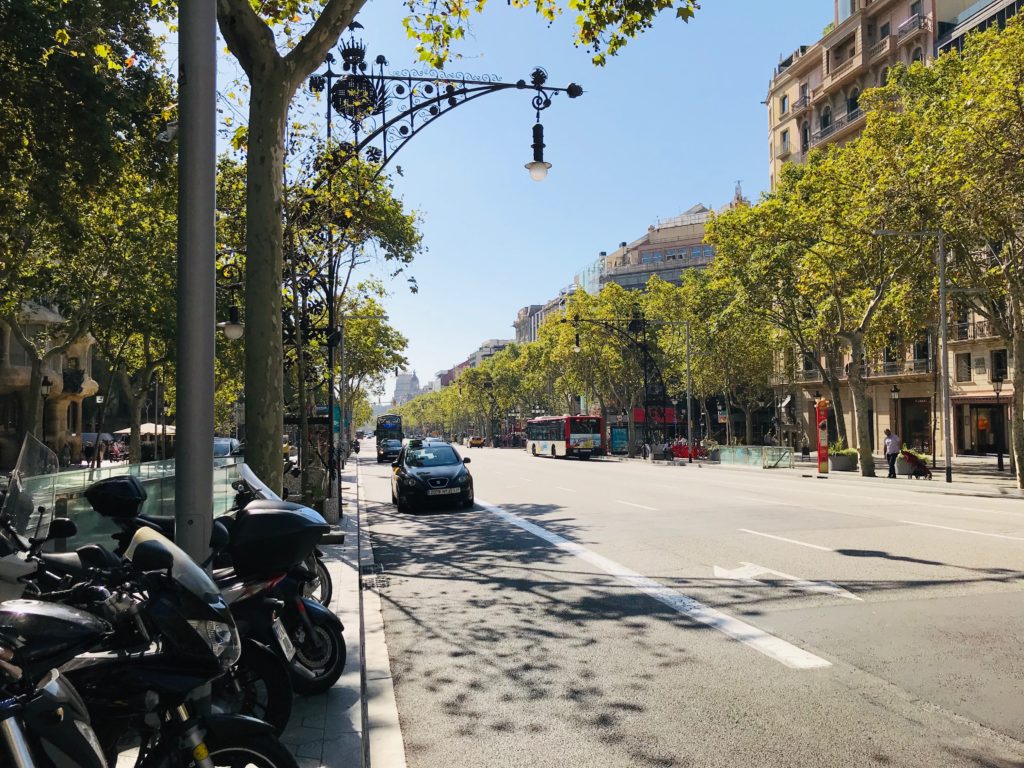 It is hard to ignore those beautiful buildings on the side of Passeig de Gràcia avenue, such as the one below, standing in the middle, the well-known Casa Batlló, which is one of Antoni Gaudi's buildings on tomorrow's visiting list. There is also Casa Amatller (left), designed by Josep Puig i Cadafalch, and Casa Lleó-Morera (on the other end of the block), designed by Domènech i Montaner.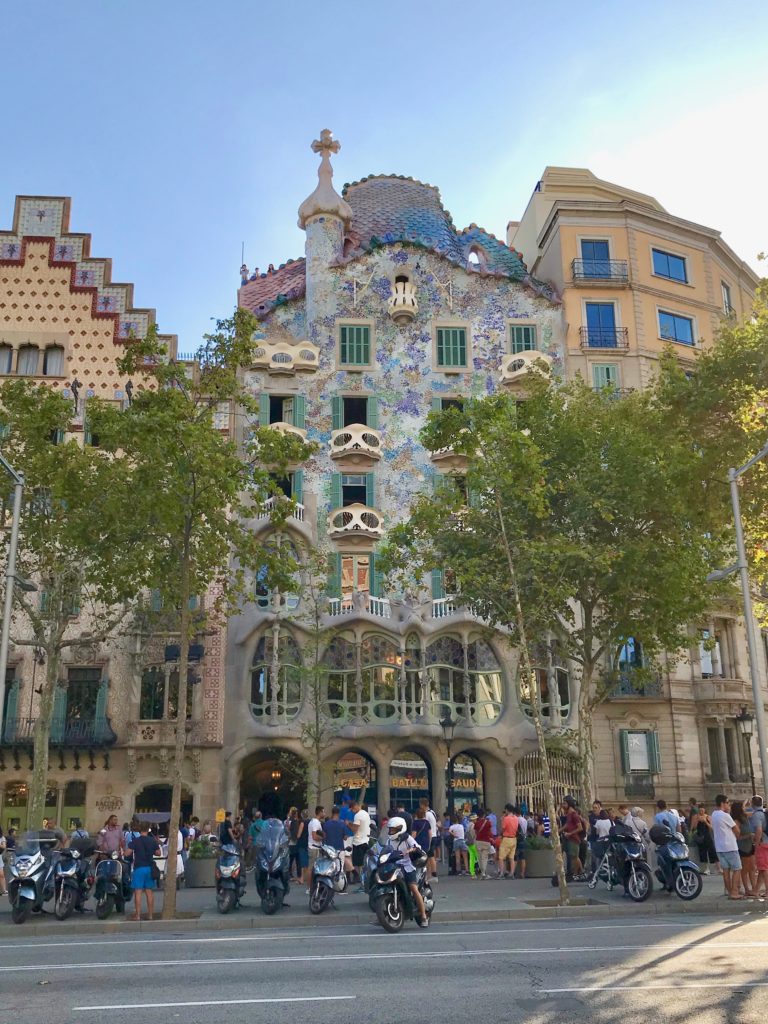 Day 2 – Casa Milà, Casa Batlló, Catalonia Square, Park Güell, La Sagrada Familia
Today was Antoni Gaudí Day. Before I came to Barcelona, I had no idea who Antoni Gaudí was, but now I am a big fan of his. Gaudí was such a talented architect. As I mentioned on my Instagram, he is a legend of architecture history. It was so incredible to see how he transformed natural resources, oriental arts and geometrical forms into his own architectural designs. All his works consisted of vibrant colours and fluid shapes, and those strong characteristics helped define the main feature of Barcelona.
It is strongly recommended that you buy tickets online, which will not only save your time but also secure your spot. I purchased express tickets for Sagrada Familia and Park Guëll on The Gaudí Bundle, and a Casa Batlló express ticket on Expedia, as it seemed to be the best deal, and I could skip the lines for all three attractions.
The first stop was Casa Milà, also known as La Pedrera or "the stone quarry."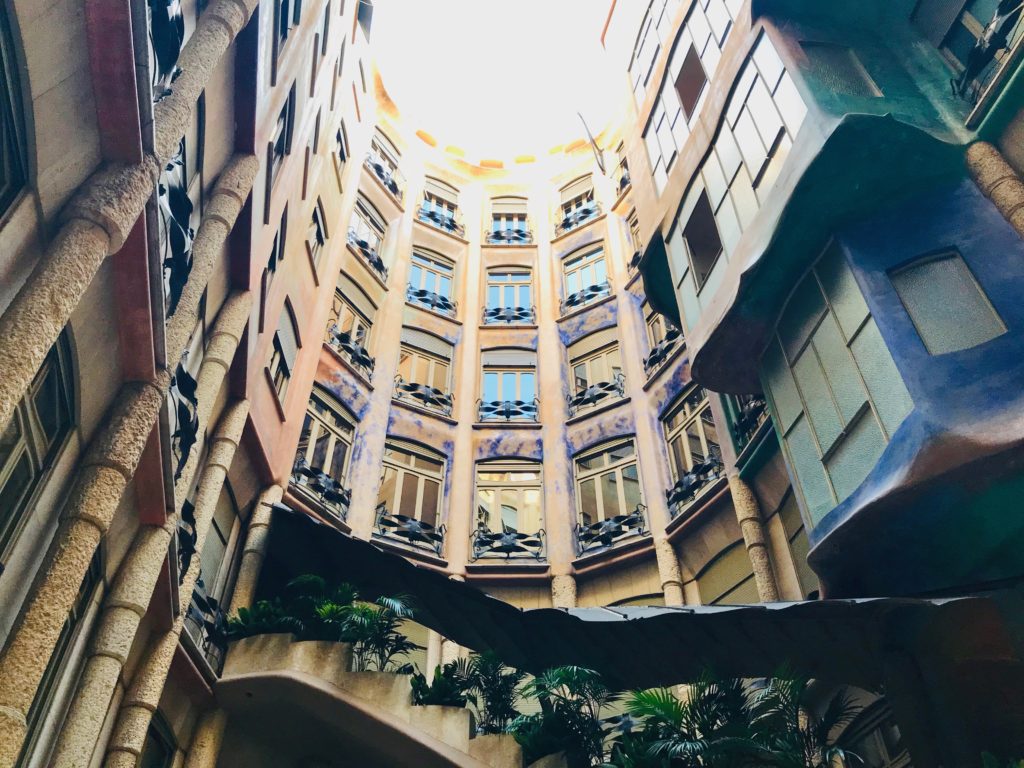 This photo down here is one of my faves.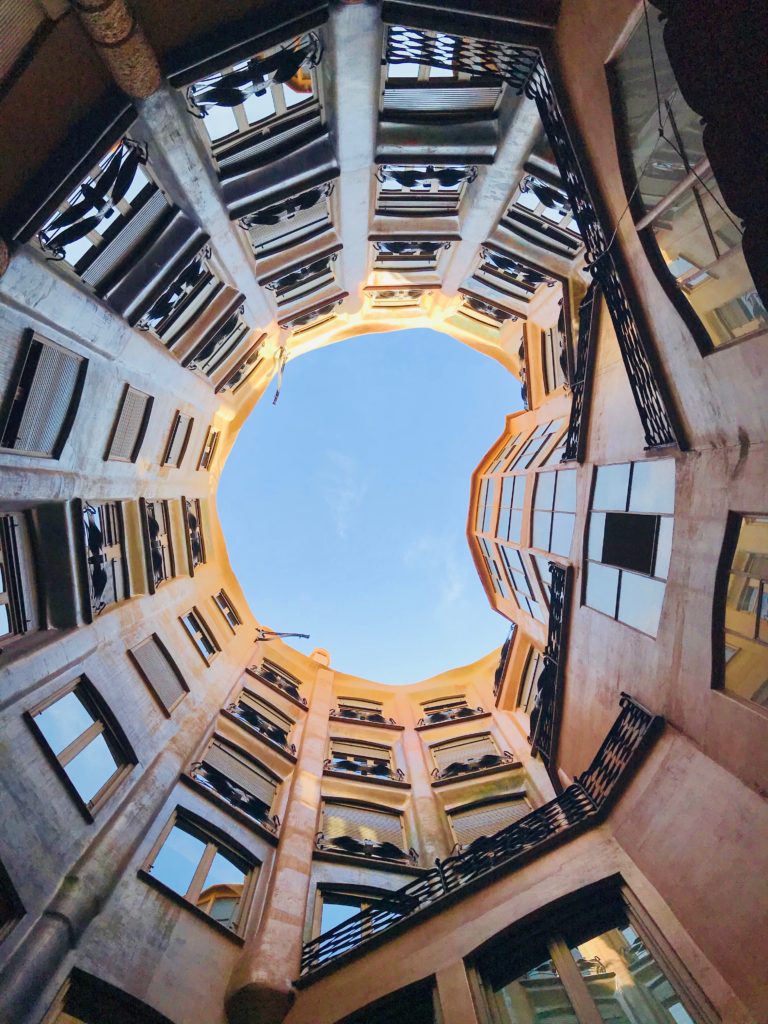 Stop 2 was Casa Batlló. It has another nickname — "House of Bones" — because of its skeletal-shaped facade design (you can refer to my 'Part 1' photo). It is also known for its beautiful dragon-shaped roof design.
After visiting the inside of Casa Battlo, I would also like to give it another name – "Sea House," because walking from bottom to the top, I felt like a fish flowing in the sea, from the deep bottom up to the surface, where the seagrass and seafoam float around, dragons playing 'hide and seek'…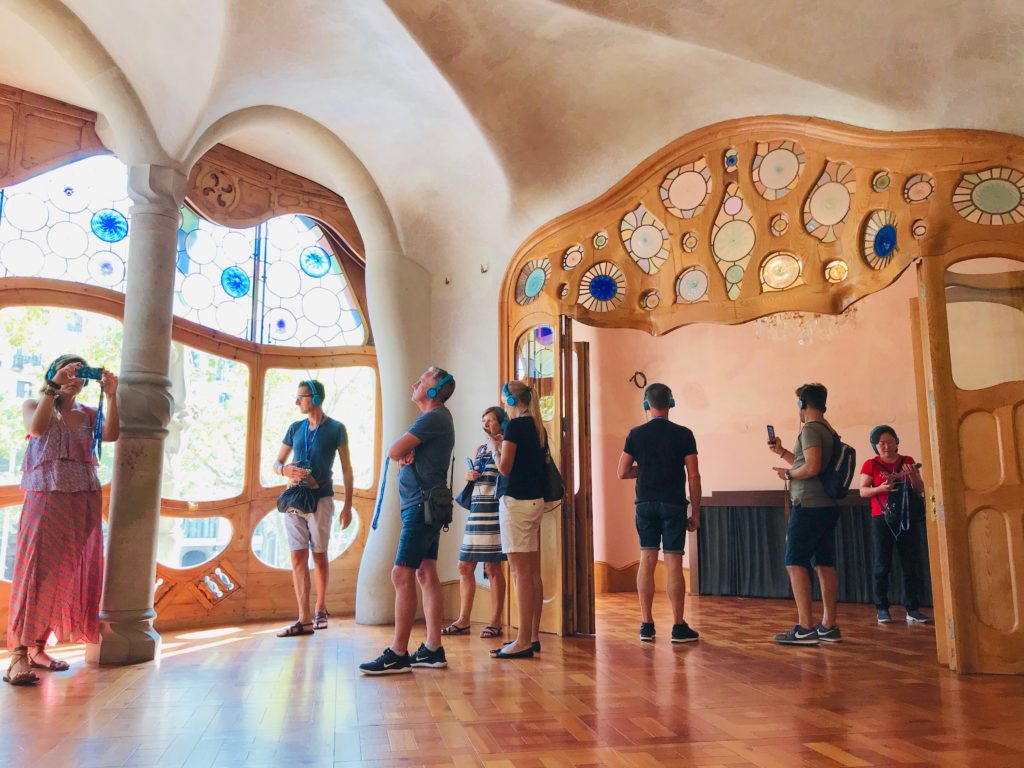 Quick lunch – tapas with sangria. This restaurant, Ciudad Conda, was a 5-minute walk southeast of Casa Battlo and is another popular place to go for tapas.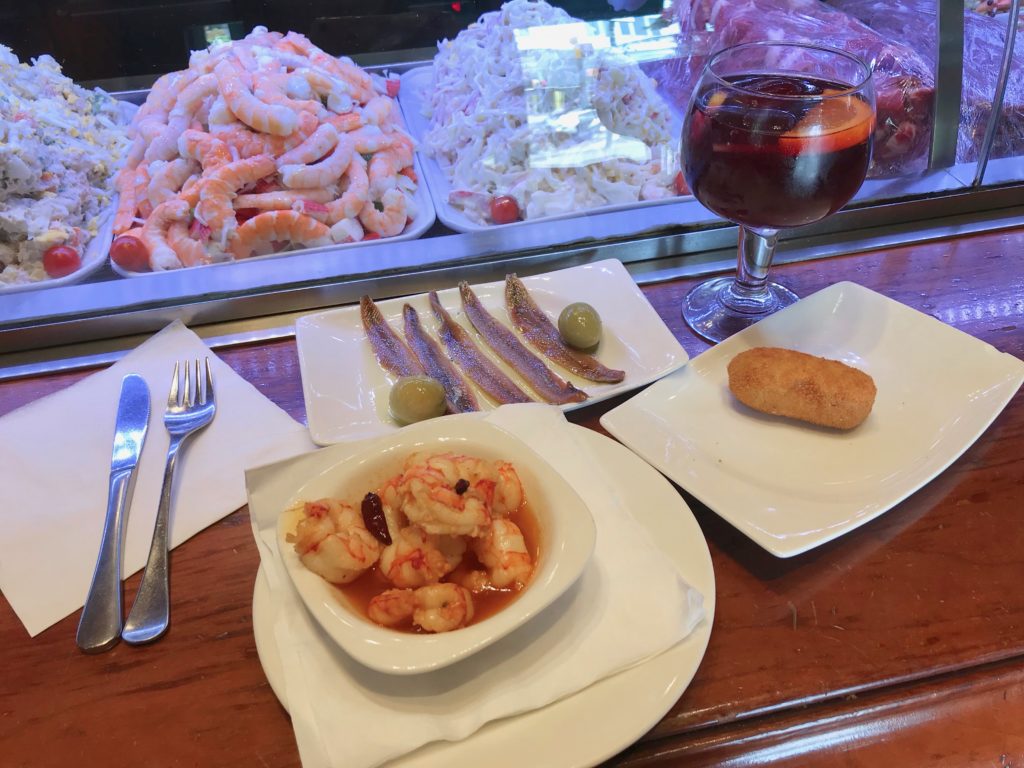 Did a short after-lunch walk at Plaça de Catalunya (Catalunya Plaza), which was another 5-minute walk south-east from Ciudad Conda.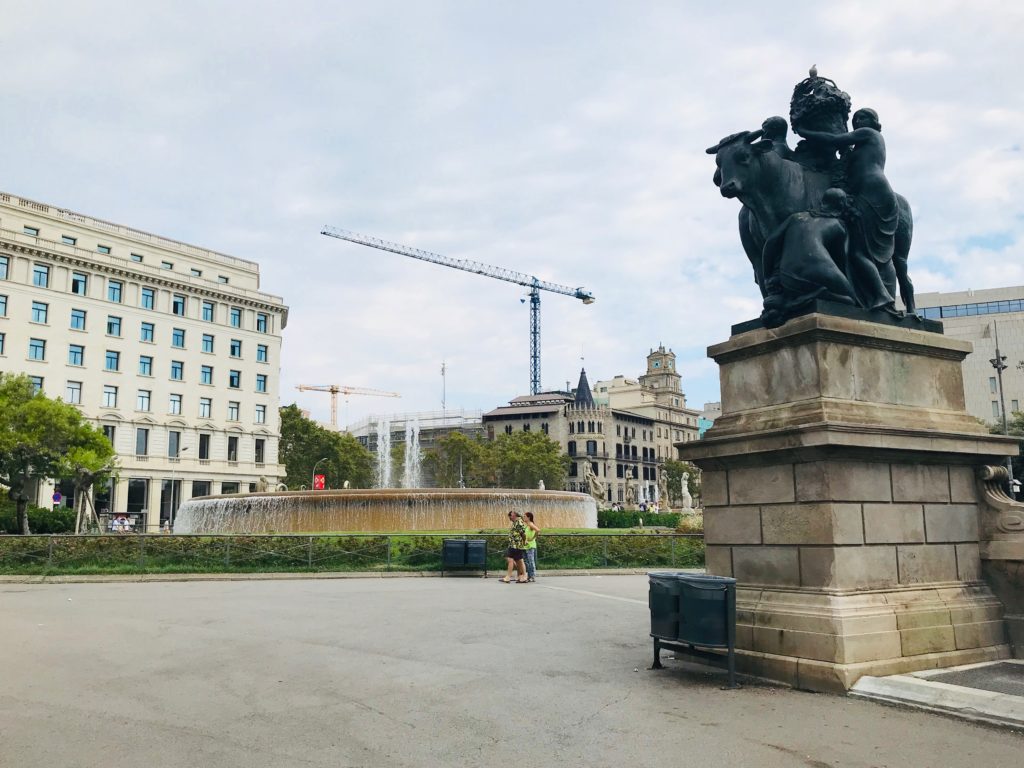 Now it's time to head to our stop 3 – Park Güell. The park well reflected Gaudi's typical mosaic design style. It was originally part of Eusebi Güell's housing site. Then it became a public garden. Gaudi also used to live in this property, so now it has become Gaudi House Museum.
Bus #24 will take you from Catalunya Plaza to the Park. If you take Line 3, you'll end up like me, walking 30 minutes over a long & big slope which only directs you to the back of the park. However, if you want to take a photo of the Barcelona skyline, there is a great lookout point called Mirador de Joan Sales, which can be easily found if you come from the back of the park.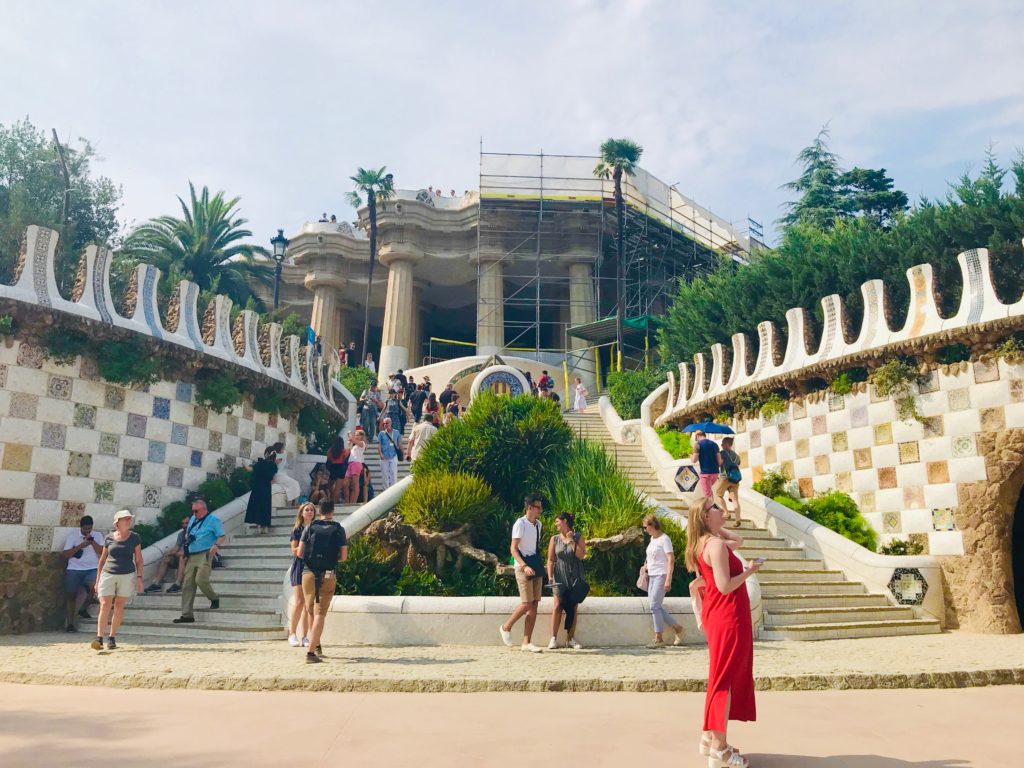 Last stop for the day was La Sagrada Familia. This was actually a building Gaudi took over in 1883 after the construction had begun for one year. He was dedicated to this project and spent his remaining life designing it. At the time of his death in 1926, less than a quarter of the project was complete. Nowadays, engineers and architects still continue building this church and are aiming to complete the construction by 2026, the centenary of Gaudi's death.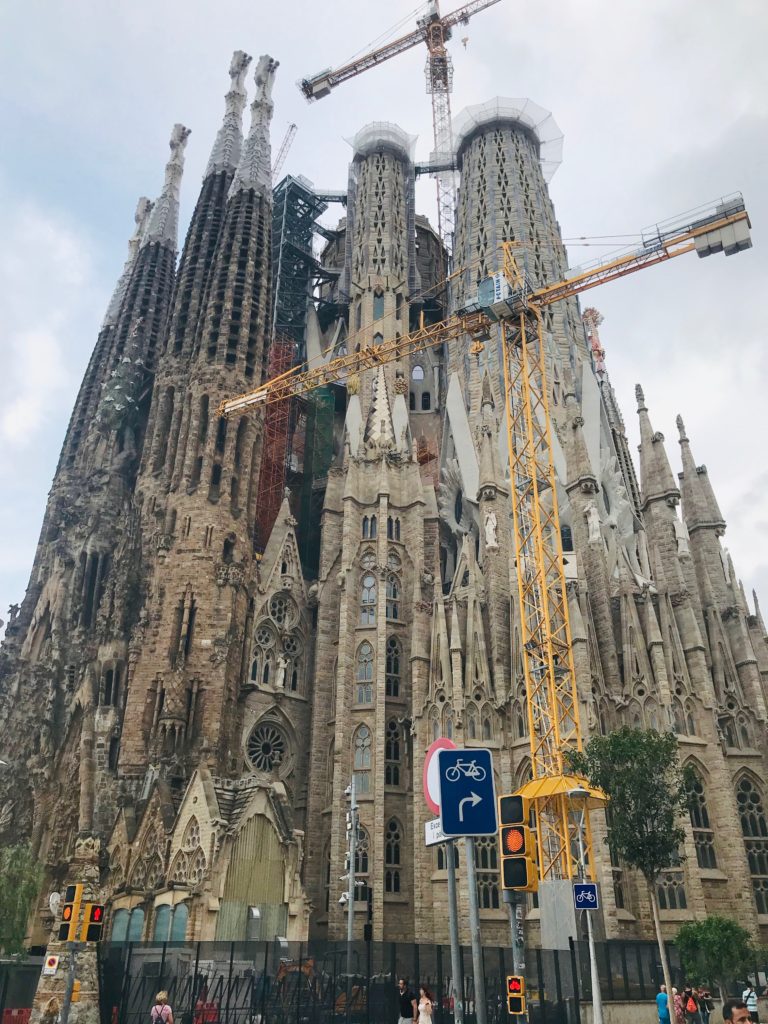 Gaudi was the one and only architect that had such unique design styles and grant contributions. It was a shame that his works didn't get recognized until after his death. He is a treasure of the world's architectural history without a doubt.